Transparency portal
1. REGULATIONS
Law 7/1995, of April 6, on the Tourism Organization of the Canary Islands

(Download PDF)
Decree 142/2010, of October 4, which approves the Regulation of Tourist Accommodation Activity, which regulates tourist standards

(Download PDF)
Decree 90/2010, of July 22, which regulates the tourist restaurant activity and the establishments where it takes place.

(Download PDF)
Decree 10/2001, of January 22, which regulates tourist standards.

(Download PDF)
LAW 2/2013, of May 29, for the renewal and modernization of tourism in the Canary Islands.

(Download PDF)
Law 19/2013, of December 9, on transparency, access to public information and good governance.

(Download PDF)
Law 12/2014, of December 26, on transparency and access to public information.

(Download PDF)
Law 1/2018, of March 21, on Transparency of Public Activity.

(Download PDF)
* Date modified 10/29/2021
2. COMPANY
- SOCIAL OBJECT
ICHIBAN, SL (hereinafter, the Company), with CIF B35453471, was incorporated on November 7, 1996 as a Limited Liability Company with an indefinite duration.
The Company has not changed its corporate name since its constitution.
Its registered office is established at Avenida Estados Unidos, 44, 1, 35100 in San Bartolomé de Tirajana (Las Palmas de Gran Canaria).
The corporate purpose of the Company corresponds mainly to the activity and operation of hotels and similar accommodation.
The Capital Companies Law (in force since September 1, 2010) is applied, the consolidated text of which was approved by Royal Legislative Decree 1/2010, of July 2, the Commercial Code and complementary provisions.
The functional currency in which the company operates is the euro.
* Date modified 07/30/2021
- HISTORY
The Club Maspalomas Suites Spa **** is a horizontal hotel with 133 rooms, reopened after a complete transformation on November 1, 2018. The Cáceres family, owner of the establishment, began its business career in the medical area in 1973, being the father , Doctor Felipe Cáceres Arvelo, the founder of the first private clinic with 24-hour service in Playa del Inglés, accompanied by his wife, Mrs. María Rosa Jiménez Gordillo, who worked as a nurse, in addition to the financial management of the business. In 1980, they decided to build the Club Maspalomas, a 1-key category bungalow complex, which from 1990 began to be managed by the family, specifically by one of their descendants, Iván Cáceres. During all these years, the paternal influence on the care of the body and mind has been such that last May 2018 they undertook their most ambitious project, turning the complex into a superior 4-star hotel, redefining the concept of vacations through of the pursuit of well-being and health. We opted for top quality materials, for equipment with the latest generation technology in order to provide maximum comfort and convenience, always in line with sustainability and environmental awareness. In addition, a leisure and relaxation area is created, with a Zen Spa therapy center and sports facilities. This search for well-being is not only provided by physical exercise, but under the motto of "you are what you eat", they design a balanced and healthy gastronomic offer, the main protagonist being the product called Km0, in addition to vegetarian and vegan. But the key to success that makes the difference is undoubtedly the human team. It is the most important asset of our company, the only one capable of transmitting feelings, of generating bonds of union with our clients, where the concept of family is always very present, making them feel as if they were at home.
- ORGANIZATION CHART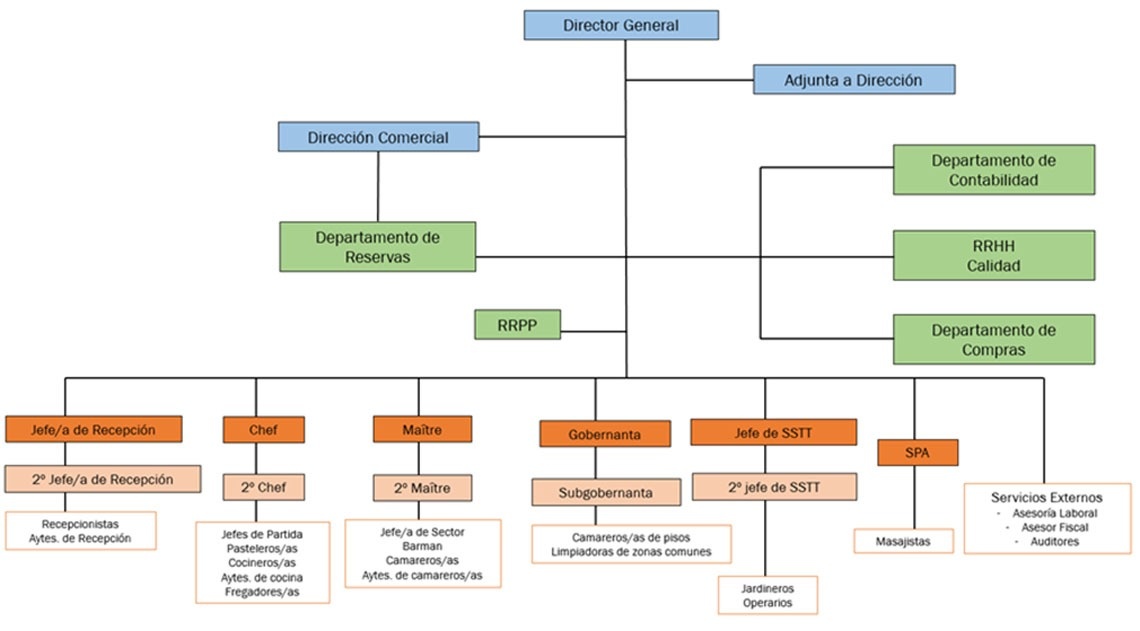 * Date modified 10/29/2021
3. CONTRACTS AND AGREEMENTS
During 2020 We have neither contracts nor agreements signed with the Public Administration.
* Date modified 10/29/2021
4. SUBSIDIES
| | | | | | |
| --- | --- | --- | --- | --- | --- |
| EXERCISE | OBJECT | PURPOSE | GRANTING BODY | LINK | AMOUNT |
| 2019 | Canary Islands Employment Service - CERTIFICATE PROGRAM | Fourth Period of the Call for Grants of the Certificate program, approved by Resolution of April 4, 2018 of the President. Charged with the incentive program for the hiring of unemployed persons with a "Certificate" of professionalism for the 2018-2019 financial year. | Ministry of Economy, Knowledge and Employment. | PDF | € 46,000.00 |
| 2019 | Canary Islands Employment Service - CERTIFICATE PROGRAM | Fifth Period of the Call for Grants of the Certificate program, approved by Resolution of April 4, 2018 of the President. Charged with the incentive program for the hiring of unemployed persons with a "Certificate" of professionalism for the 2018-2019 financial year. | Ministry of Economy, Knowledge and Employment. | PDF | € 18,500.00 |
| 2020 | Canary Islands Employment Service - CERTIFICATE PROGRAM | Second Period of the Call for Grants of the Certificate program, approved by Resolution of March 8, 2019 of the President. Charged with the incentive program for the hiring of unemployed persons with a certificate of professionalism "Certificate" for the 2019-2020 financial year. | Ministry of Economy, Knowledge and Employment. | PDF | € 6,000.00 |
| 2020 | Canary Islands Employment Service - CERTIFICATE PROGRAM | Third Period of the Call for Grants of the Certificate program, for the 2019-2020 financial year, approved by Resolution of March 8, 2019 of the President. Charged with the incentive program for the hiring of unemployed persons with a certificate of professionalism "Certificate" for the 2019-2020 financial year. | Ministry of Economy, Knowledge and Employment. | PDF | € 13,500.00 |
| 2020 | Competitive Competition "Canarias Fortaleza" | Aimed at financing the expenses incurred in accommodation establishments due to the adaptation works necessary to guarantee safety against COVID-19. | Ministry of Tourism, Industry and Commerce. | PDF | € 100,000.00 |
* Date modified 07/30/2021